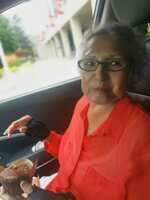 Lucy Alvarenga-Parada
Our Mother Lucy Alvarenga-Parada passed peacefully from this life on Sunday, March 12, 2023 at the Blue Water Health Hospital in Sarnia after a gradual decline in health. She was surrounded and supported by her loving family during her final days and at the time of her passing.
Lucy was born in El Salvador, Central America on February 18, 1938 and moved to London, Ontario in 1985. During her final months of life, she was cared for by her youngest daughter and eldest son in Sarnia, Ont.
Lucy is survived by her sisters Carmencita and Tita, her brother Tonito, her children Vitery, Iris, and Yasmin (and son in law Gerry), her grandchildren Stephanie, Angie, Joshua, Allan, Kimberly, Jason, Anthony, Katrina, Riley, Jaden and her great grandchildren Blake, Slade, Ezra and Espon. Lucy was preceded in death by her sister Adela, brother Mito, sister Conchita, brother Miguel Angel as well as her parents.
Lucy was a loving woman who touched everyone's life that she met. Lucy was humble, caring, kind, and loved everyone she was close to.
Visitation will be held at The Church of Jesus Christ of Latter-day Saints, 615 Baseline Rd. E., London, ON N6C 2R2 on Saturday, March 18, 2023 from 9:00 a.m.-9:45 a.m. A Celebration of Lucy's Life will follow at 10:00 a.m.
Interment in Mount Pleasant Cemetery, London, Ontario.
Those who wish may make memorial donations to the Arthritis Society in memory of Lucy.
Online condolences can be expressed at www.loganfh.ca
A tree will be planted, by the Logan Funeral Home,
as a living memorial to Lucila "Lucy" Alvarenga-Parada.