With roots stretching back more that 135 years, our business has many stories. For those of us who have the privilege of serving you here today, the most important are the ones that remind us of where we've come from and the legacy we've inherited. Stories of the individuals who defined the role of funeral service in our community and who, over generations, offered you, their friends and neighbours, the kind of caring professional service that built the reputation we enjoy today. We are pleased to share some of those stories with you here.
George A. Furtney
At just 20 years of age George A. Furtney became the youngest graduate the Canadian School of Embalming had ever produced. And that would prove to be just the first significant accomplishment of a distinguished career that would span more than thirty years and leave an indelible mark on the funeral service profession in London, Ontario. Having apprenticed with a London firm he would one day own, George Furtney also practiced his trade in Toronto before accepting a partnership in a new Toronto firm, the Arthur B. Ridley Funeral Home, in 1957. When the venerable Logan Funeral Home came up for sale in 1962 it was time for Mr. Furtney to return to London and begin to build the legacy that he has left to us today.
Over the next twenty-five years George Furtney would grow his business and a reputation for excellence. Key to his success would be the long line of dedicated professionals who would join him along the way. Leverne Pincombe brought his valued experience to the firm when Furtney purchased and amalgamated Bennett & Pincombe Funeral Home. Respected names like Bill Bennett, Don Oldham, Stewart Rice, Wendell Alton and Peter McCabe would be added to the roster along with a young funeral director named James Squires.
While his name would eventually grace the company he built, George Furtney would also preserve and honour the names of some of the local funeral service pioneers who preceded him. In 1976 when he acquired the Evans Funeral Home - where he had apprenticed many years before - and formed Furtney Funeral Homes, he determined that the two properties would retain the family names of their founders, as they continue to today.
Following his death in 1988 George Furtney's wife Joyce would assume the post of president and, in 1991, the firm would establish the Furtney Funeral Home Memorial Forest in George's memory. To this day we are pleased to be able to continue to honour his memory and his legacy by planting a tree in 'the Forest' for each and every individual we are privileged to provide services for.
As we remember Mr. Furtney, we also take his example and preserve the names and stories of the others whose contribution and reputations have been entrusted to us...
Logan Funeral Home
London's longest serving funeral home, Logan's was established in 1887 by George E. Logan. Perceiving a need in the community, Mr. Logan arrived in London from Thorndale to open his business on Dundas Street beside Kingsmill's. For the next 75 years George Logan and his family would work to ensure that the funeral service needs of his new community would always be addressed with the finest of service and the best of facilities.
As time passed and families began to use the premises of a funeral home, rather than their residences, for gathering at times of loss, more space was necessary. To meet this need and to better accommodate the stable housing the horses, which were extensively used in the funeral profession, the firm moved a short distance to the east side of Richmond Street, just north of Dundas. By 1920 the demand for still larger facilities motivated the Logan's to purchase the land that the funeral home occupies today and early in 1922 the firm moved once again. The new Logan Funeral Home was one of only a very few buildings in Ontario in its day that had been purpose built as a funeral home. The new structure also housed an ambulance service, and the Logan family made their residence on the second floor. Additional living space was also provided for the ambulance attendants.
George E. Logan passed away and was buried in Woodland Cemetery in 1935 and the business passed to his sons Harold G. Logan and A. Everett Logan. Equally committed to their father's funeral service calling, the second generation would carry on in the business until Harold's death in 1962. While Harold's passing would bring about the sale of the business - and so draw George Furtney back to London - the Logan family would continue to be represented in the firm as George's daughter Ivy continued to play the organ at the funeral home for many years.
In the capable hands of George Furtney the firm would continue to grow and expand it's facilities. Surrounding properties on Dundas and King Streets were purchased in the early 1960s to ease access and increase parking space. In 1972 a two-storey glass and brick addition was added onto the front of the funeral home along with a large portico providing a covered entrance into an expanded foyer. Additional upgrades and renovations would follow permitting this remarkable building to continue serving the families of London faithfully for nearly 90 years. And, when its work was done, the venerable old structure surrendered its place to yet another brand new Logan Funeral Home once again offering London families the care and support they've come to expect from the most up-to-date and comfortable facilities available today.
Evans Funeral Home
It would not be long after George Logan opened his new building on Dundas Street until the community in east London and the Hamilton Road area would have their own new funeral home. In 1924 Clifford L. Evans would launch his firm at 648 Hamilton Road. Mr. Evans was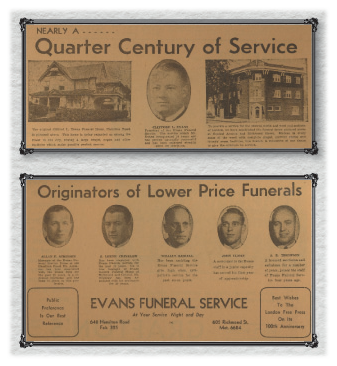 deeply committed to the principle of value for his customers and dedicated to giving his families the best service available for the most reasonable price.
His firm would expand to a second location - at the Northwest corner of Central Avenue and Richmond Streets - for a time, but eventually settled back to just its original home on Hamilton Road. Throughout its evolution, whatever the changes that might have come along, one aspect of the firm remained steadfast; Clifford Evans' resolve to serve the people his community and offer value for their hard-earned dollars.
Over the course of his career Mr. Evans would employ a number of funeral directors and support people to assist him in the firm. Among them were a few who made there own distinct mark on the business including Lorne Crinklaw, Joe Atkinson and Lloyd Bestard. Mr. Crinklaw would eventually purchase the business and carry on the Evans' legacy.
In 1976 the Evans' firm would be purchased by another former employee, George Furtney, but the 'community business' would continue to serve its community from the very same address where Clifford Evans launched it many years before. Obviously feeling strong ties to his own roots in the profession, Furtney would realize a personal dream in 1987 when he built and opened a brand new Evans Funeral Home, the building that exists today, and once again located at 648 Hamilton Road.
The new Evans Funeral Home would sadly prove to be among George Furtney's crowning achievements with his death coming only a year after its completion.
Epilogue
In 2002 Mrs. Joyce Furtney would decide to retire and sell Furtney Funeral Homes. James Squires a veteran funeral director and longtime manager with the firm would step forward to lead a partnership group that would assume ownership of the business and accept the formidable responsibility of carrying on in the shadow of the Furtney, Logan and Evans families. In 2017 Jim Squires took a well deserved retirement and joined the distinguished list of outstanding funeral service leaders whose contributions have become part of the storied legacy of the Furtney firm. Jim's partners Stephen Michalchuk and David Pizzey now oversee the business.